The yield on the 10-year Treasury note cracked through its 3 percent level this week to hit its highest level since mid-June as the bond market showed signs of activity after a quiet summer.
One technician is doubling down on his call for 10-year yields to move closer to 4 percent.
"The most important action, I think, this year was holding near this 2.6 percent level because that helped solidify this bottoming formation," Frank Cappelleri, chief market technician at Instinet, told CNBC's "Trading Nation." "That has a measured move up to 3.9 percent."
A bottom in Treasury yields formed over the past three years, demonstrated by low in February 2015, a lower low in mid-2016 and a higher low in September last year, says Cappelleri.
For those expecting a more hawkish Federal Reserve, higher yields also make sense, according to Cappelleri. Yields typically rise, and bond prices fall, when the Fed hikes interest rates. Bond yields and prices move inversely to one another.
The Fed on Wednesday revised its characterization of economic growth to "strong" from "solid," a signal it is likely to hike rates at its next meeting. The chances of a September rate hike are high at 90 percent, according to CME Group fed funds futures.
Boris Schlossberg, managing director of FX strategy at BK Asset Management, sees no signs of the Fed slowing down in its plans for rate hikes.
"The Fed seems to be all systems go," Schlossberg said on Wednesday's "Trading Nation." "It's really not taking its foot off the gas pedal so it looks very likely that they could go to possibly four rate hikes, which means that the yield is probably going to have to rise up."
Keep any move higher in yields in context, adds Cappelleri.
"This is occurring within the confines of this very long four-decade downtrend," he said. "A really lofty call doesn't look so bad if you put it within here."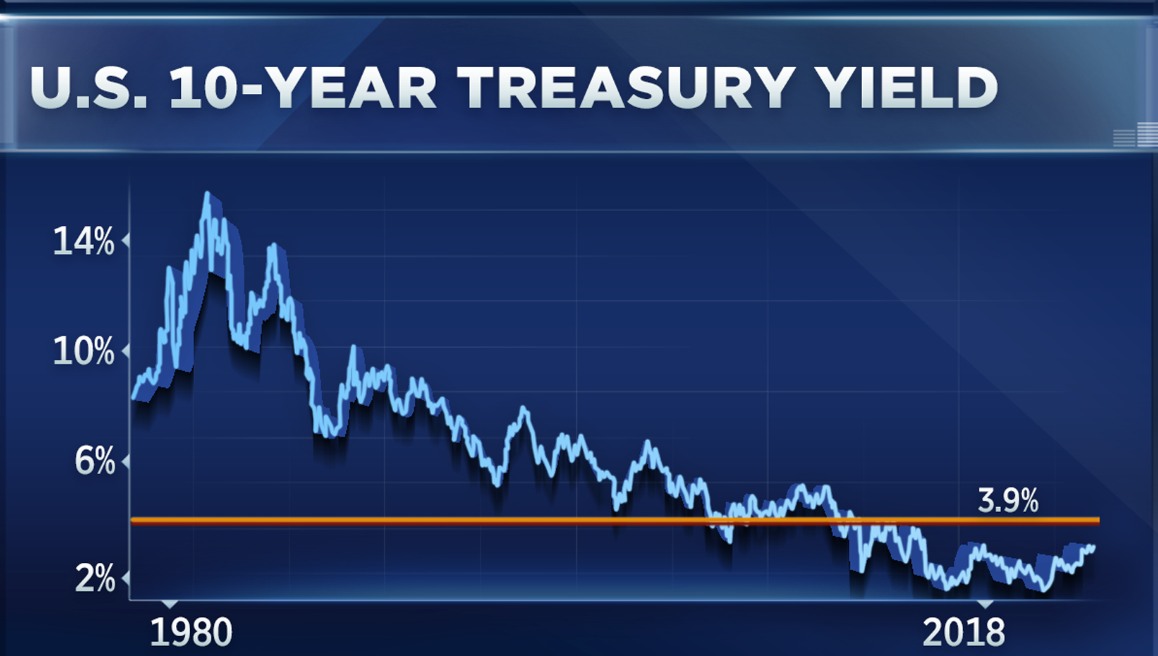 The yield on a 10-year note was as high as 9.5 percent 30 years ago.
Cappelleri called for yields as high as 3.9 percent in a "Trading Nation" appearance in April. Yields hit 3.1 percent in mid-May, their highest level since 2011. Yields last traded around 3.9 percent in April 2010.