Retailers have crashed into bear market territory this holiday season, and one top technical analyst says Nike could be the next shoe to drop.
Shares of the sports apparel retailer were under pressure Monday morning, extending their losses from their September highs. Carter Worth, head of technical analysis at Cornerstone Macro, says Nike could see even bigger moves to the downside when it reports earnings later this week.
"[Nike's] setup is awfully similar to Costco, and that, of course, wouldn't be good if Nike does what Costco did [on earnings]," Worth said Friday on CNBC's "Options Action."
Despite the broader sell-off in the retail space, Nike shares are still up more than 14 percent this year, while the XRT retail ETF has fallen nearly 7 percent in the same time frame. However, Worth's thesis suggests the Dow stock may no longer be able to maintain its resilience.
"Costco and Nike have been the darlings — they're both trading at near-record valuations as most other retailers, including even Amazon, have come under pressure," Worth said. "They've been treated the same in the market, and I think [that] is one of the setups here for Nike to the downside."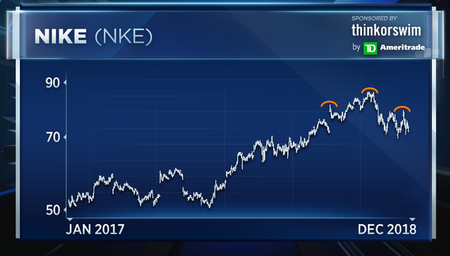 Worth's charting reveals a number of bearish technical indicators that have developed in Nike's stock, including a bearish head-and-shoulders formation and a break down through its uptrend around the $81 level.
While Nike is up on the year it's still down nearly 17 percent from its all-time closing high of $85.55 in late September. Worth suggests investors keep an eye on the stock neckline around $69 where a break below would "give you a Costco-type sell-off."
"[With] earnings coming up, I'm a seller," he warned.
Nike is set to report its second-quarter earnings Thursday. The stock was trading lower on Monday afternoon around $71.72.